The city and county of Dallas, TX real estate market has been red-hot for quite awhile now, and viewing (my) crystal ball I believe the trends we have seen will continue for 2017.

Much to the delight of home sellers, home prices continue to rise mainly due to the low available inventory of homes for sale.  So of course much to the dismay of home buyers, few homes are available to choose from and the prices are higher than in years' past.

New home construction continues to gain inventory, but not at the pace needed for the number of buyers that are ready to buy.  As the following charts will show, available existing (resale) homes in Dallas County are lower this past December than 2014 and 2015: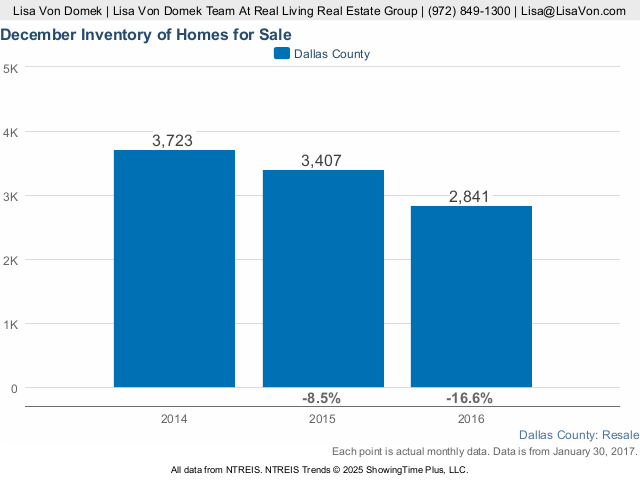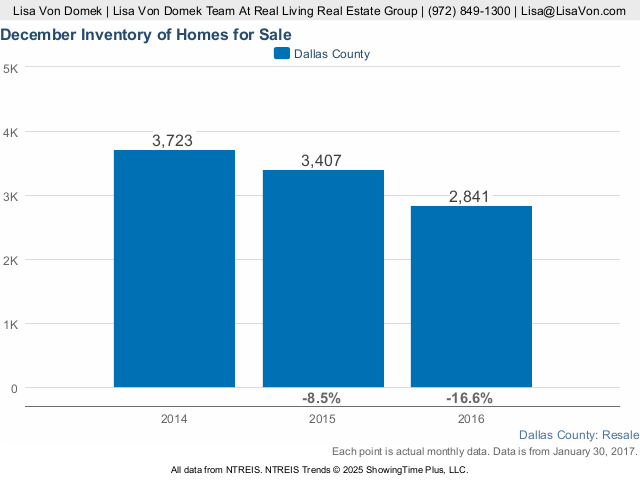 Buyers find that the sales prices are on the rise for both resale and new construction homes: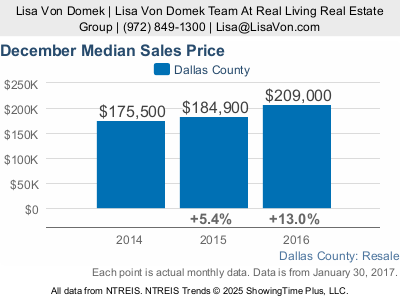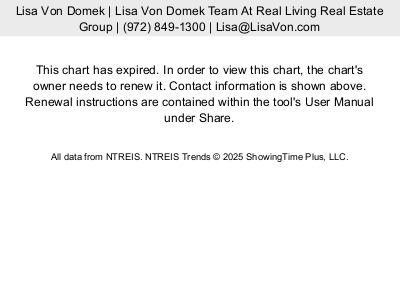 And the average days on market (combined resale and new construction) illustrates the speed of the Dallas County real estate market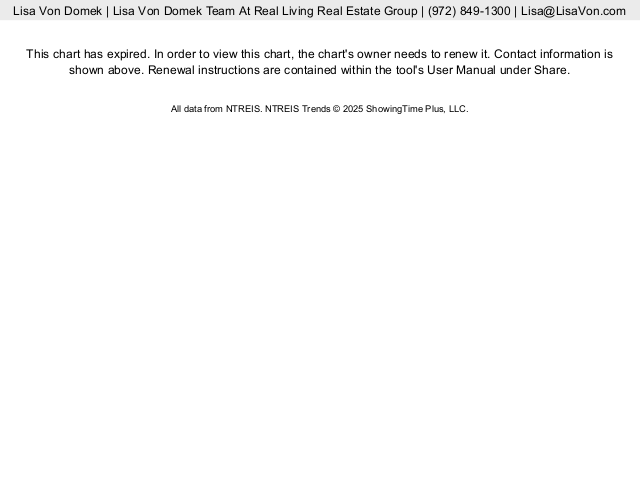 There is support for my crystal ball predictions in recent articles printed or re-printed from the Metrotex Board of Realtors.
From the Metrotex Blog:
January 09, 2017
In a sobering repeat of the previous year's finale, the 2016 housing market again reached a record low inventory of available housing stock. While the sales volume and prices did rise year over year, industry experts may express concern at some of the underlying currents displayed in the monthly sales figures released today by the MetroTex Association of REALTORS.  
"Overall, the market performed exceeding well in 2016," said James Martin, president of MetroTex. "We've reached over $28 billion in sales for the first time in history, and completed over 101,000 transactions. That's an incredibly active market for us. However, for the size of the market we are experiencing, we would hope to see many more new listings coming up. In December we really didn't see enough to replace the homes we sold. It's almost hard to imagine what will happen to price levels if we continue to see inventory levels fall at this rate. Hopefully, we'll see more completed new homes enter the market in the spring."
According to the report, 8,365 homes were sold in North Texas in December, a 3 percent increase from 2015. The dollar volume of sales in North Texas increased 10 percent year-over-year to $2,373,050,120. The average price in December was $283,688 up 8 percent from last year.
North Texas new home sales rose 14 percent in the fourth quarter from a year earlier.
But even with strong demand, Dallas-Fort Worth builders couldn't break the 30,000-home start barrier in 2016.
Builders started 29,337 new homes in the area last year — an increase of only about 5 percent from 2015 levels, according to a report by Residential Strategies Inc.
A lack of labor, rising costs for land and building materials, and slow government approvals held back home construction in North Texas.
"The market continues to be constrained by a lack of construction trades," Ted Wilson, principal with Residential Strategies, said in the report. "While there have been some reported improvements in certain subcontractor categories, the overall construction cycle time remains protracted
Lisa Von Domek


BROKER/ASSOCIATE/REALTOR, 
ABR, AHWD, ALHS, ASP, BPOR, CAPS, CDPE, CGP,
CLHMS, CMS, 
CRS, 
CSP, e-PRO, GREEN, GRI, MRP, PS, QSC, SFR, SRES, TAHS, TRC
Lisa Von Domek & Associates, LLC / 
Real Living Real Estate Group 
Phone:      972-849-1300 
Multi-Million Dollar Consultant
Texas Licensed Real Estate Broker
Addison TX Real Estate  Allen TX Real Estate  Argyle TX Real Estate  Cedar Hill TX Real Estate
Dallas TX Real Estate  DeSoto TX Real Estate  Duncanville TX Real Estate  Grand Prairie TX Real Estate Midlothian TX Real Estate Plano TX Real Estate  Red Oak TX Real Estate  Waxahachie TX Real Estate
Information, written commentary, photos, original verse, etc… are the property of this author and may be reprinted or posted for Active Rain.